Tonight I signed up for the Knitting Olympics!
Thanks to
the Yarn Harlot
over 2500 knitters have decided to "go for the gold".
Basically, you choose a project that stretches your abilities. Something new, something hard, something different. Since I am a life long knitter, I had to thing long and hard about doing a new techniques. I've done about everything from lace to cables. Finally, I remembered how I have been totally repressing the fact that I've never done and fair isle. I don't like to strand yarn behind the work much, so this should be a real challenge!
You need to start the project during the opening ceremonies and then finish it before the closing ceremonies. No way could I do a sweater or anything big in that amount of time. I searched the net for projects, thinking a hat or socks would be best, but then I hit on the purse featured on the cover of
Simply Knitting
for June 2005. This bag is from Emma King's

book
25 Bags to Knit and is also featured on the cover.
Now, as a life long knitter, I had to come up with some kind of project or technique that I had never tried before. Not an easy task - I've done everything from cables to lace. The one thing I've shied away from has been fair isle knitting. Therefore, I will be knitting a bag to look sort of like the one featured, but I will be knitting it in wool (my least favorite natural fiber and the bane of my asthma!) and using a fair isle design instead of the one called for by the pattern.
I am going to use the fair isle design published by Elizabeth Zimmerman in her
book
Knitting Around. It is featured in Chapter two - Fair Isle Yoke Sweater
That should make it a project truly worthy of the Knitting Olympics. It will also be a great stretch for me to actually complete it in 10 days.
Maybe I should have chosen a hat......
Here is the "Before" picture of my yarn!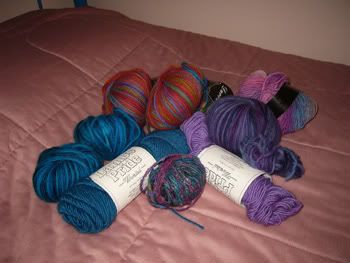 Off to swatch....