Opening Ceremonies
Wow! Talk about spectacle! Did you enjoy the opening ceremonies? I did – at least until Battlestar Gallactica came on. Good thing that Luciano Pavoratti sang Nesun Dorma during a commercial break or I would have missed it. It was the BEST!! His voice is still so outstanding.
Now, on to my Knitting Olympics update! Here is a picture of my progess during the opening ceremonies.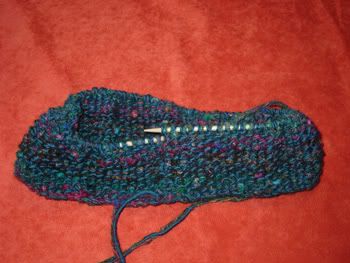 As you can see, I cast on to the circular needle and it worked out fine! Didn't need the back up double points after all! I got the first moss stitch portion of the bag done. 14 rows. That is a lot of knitting for me in one sitting! Off to a strong start.
Just a few more stockinette stitch rows and garter stitch rows, then it will be time to do the Fair Isle portion. Now, just because I'm doing a Fair Isle doesn't mean it will look like a traditional Fair Isle. Not at all! Stay tuned….color burst ahead!