New Stitching Project
Last Sunday I started a new Stitching Project – a Featherstitched Needlecase which is basically a reproduction sampler of an
antique needlecase
. Actually, I started it the previous week because we needed to do our basting before the class on Sunday. The basting actually deserved its own entry, but I was too flummoxed to write it! Sheesh! Basting is supposed to be the easy part, right? Well, on the dark oatmeal colored linen that comprises the outside of the needlecase, basting over two threads and under two threads was a challenge, even with good lighting and double magnifiers!
I also had to redo it at least twice because the opening page of instructions merely gave dimensional directions: baste 1 ½ inches in from the edges. So I did that. Only to find later on that the basting needed to be a specific number of threads and encompass the slanted top of the case. I should have known.
During class, my stitching friend and I (*waves to Lunchqueen*) became actually giddy. We were taking photos of the teacher's original completed project with our cell phones so we could see what this baby was supposed to look like. By this time in class, we'd really pretty much decided we had been totally insane to order this project and would probably never start it and certainly not live long enough to finish it. Hence the onset of the giggles. Hey, on the plus side, they didn't ask us to leave….
So anyhow, after all that ridiculous basting, I figured I would start the outside and see how the stitching was. It was grueling! Yikes! I've done a lot of featherstitching, but on this piece you need to count each thread between each needle placement. Guess there won't be any "zen" from the rhythm of the stitches on this piece. It took me an hour to do one half of the first center row.
I should have taken a picture of the blank canvas, but I was too despondent. Anyhow, here's the first picture, after five complete rows. The middle row has an overstitch, so it was really six top to bottom rows.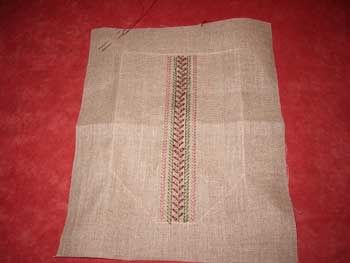 Sooooo…..can you see my mistake? Yes. Even though I counted all the threads between each and every stitch, there is a mistake in the center row. *Cringe*. I've decided that it's my needlecase and since the stitching police aren't invited to my house, I'm NOT going to fix it!
Surprisingly, I really am starting to like this project. This first picture represents at least 7 hours of stitching. More to come…