Hakuna Matata!
Today is a big day, Blog-wise! ::points at Gold Medal---->::
A big day project-wise, too. I delivered the Lion King themed baby quilt I made for Monica - the first grandchild of the next generation in my husband's family, today. It was quite an interesting experience. Her mother is a huge fan of the Lion King and all things Disney, so I scoured up most of the fabrics on ebay. That was fun! The square in a square pattern is one of my favorites - I also made a queen size quilt for my neice in that pattern a couple of years ago, using all batiks.
The best thing about this baby quilt is that I finished it before the baby was born! Yea! Go me! Here's a picture: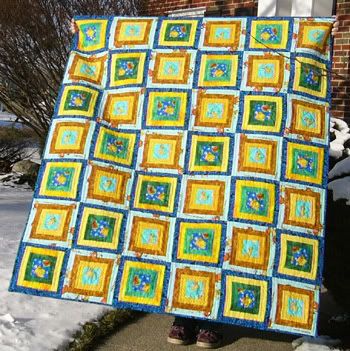 I also found a Hakuna Matata print, in both cotton and cotton flannel. I used the cotton for the quilt back and made her a matching layette out of the flannel. It's a receiving blanket, a gown, a bib and a burp cloth. Here's the picture of the layette:
I will be making two more layettes, so more about those later. More knitting, too – since I will be including knitted hats with the next two layettes!