All Finished = Too Cute!
Finished up both layettes. Here's the one for Jack – hope he (and his mom and grandmother) like it! I gave it to Jack's grandmother today – he's two weeks old now, so he should still fit into everything. 8 pounds at birth. Gee, that sounds big to me, but I guess it's really not. My kids were just small….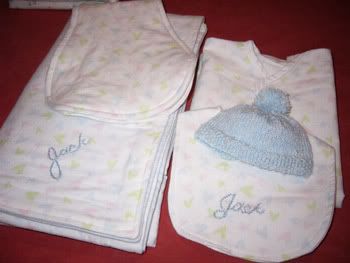 Here's the last one I made, for a community service project.
I'm pleased with how they came out!
Now, got to go finish those flower pins….will post them tomorrow!