Strength and Endurance!
OK then, here's my second section of my Knitting Olympics bag finished.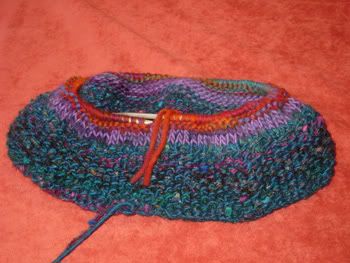 I am pleased it's going so well, but now I am to the Fair Isle section of the piece. Doing 20 rows of it may take a few days….providing I don't have any problems. I won't post any new Knitting Olympics pictures until then. One note, however, with the variegated yarns and bright colors I am using, this is definitely NOT going to look anything like a traditional Fair Isle. Which is fine with me. Not your Grandmother's Fair Isle. Or your Mother's either!