Say Goodbye to Hello Kitty!
Wave goodbye to the cute Hello Kitty Pillowcases!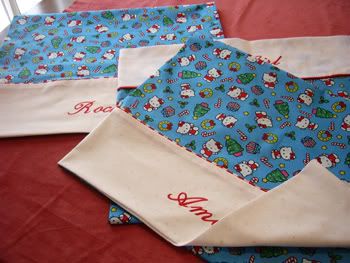 At Christmastime, I made three Hello Kitty Monogrammed Pillowcases for my three youngest nieces. We put their Christmas Presents inside and the little girls really liked them. After Christmas, I figured I knew some big girls who would like to have their own Hello Kitty Monogrammed Pillowcase, too! I mailed these three off today!
Hope their recipients like them.
Also, since I can't knit too much or my hands will suffer, I completed the second row on my current stitching project:
So many projects, so little time……