COMMENTS, COMMENTS, COMMENTS
– Plus a Knitting Olympics Update and more Kimono Blocks
Yikes! The Comments function is now fixed, so please leave me a comment if you wish! Sorry – I am clearly blog settings challenged. This is when it is good to have children with many more computer skills than you have. Coming attractions: Gallery and Instructions links!
As the Olympics draws to a close this weekend, I am hurrying to finish my Knitting Olympics project. I had a minor problem with finishing the top edge this morning. I was going to use a sewn tubular bind off – but it looked AWFUL after a couple of inches. Naturally, it took much longer to take out than it took to sew it. Isn't that always how it happens? Anyhow, since I was including techniques to honor Elizabeth Zimmerman – the Mother of All Modern Knitting – I used an attached I-cord bind off. It looks fabulous, darling. But don't take my word for it, looky here:
It's blocked on my ironing board. The last real challenge to finishing it on time is drying time! Will it be dry tomorrow? Saturday? Sunday???? I'll make the lining tomorrow and hope for the best! By the way, the finished size is 10" x 14 ½".
While that's drying…….More Kimono Blocks!!!
First I did these two: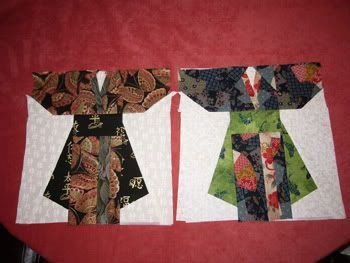 Then I finished up this one:
This is enough for a wall hanging, so I guess I'd better decide just how many of these I want to make. It's always something!